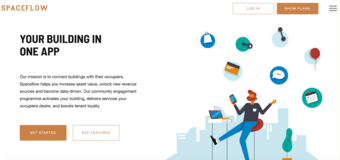 LIVING, Hungary's first residential real estate developer offering community services, is expanding its services with a unique community application, which also adds an application to the apartments.
The mobile application called Spaceflow will be available for the first time in Hungary to the residents of LIVING's first project, Kassák Residence. The purpose of the application is to make the daily life of the residents easier and to offer them additional discounts and benefits. Spaceflow is already implemented in Romania in the SkyTower office building in Bucharest, through Online Real Assets, Spaceflow partner in Romania.
WING's umbrella brand, LIVING, specializes in residential real estate development. Thus, the developer is the first in the country to introduce the Spaceflow mobile application in the Kassák Residence residential park as part of community services.
It is good to know that not only in Hungary, but also in Europe, the community application provided to the residents is rare, which is designed to make everyday life easier, and also provides additional discounts and benefits.

Daily news and current affairs will be available on the platform, complete with program recommendations and public interest information in the district and city. In addition, residents can expect discounts at nearby cafes, restaurants and gyms thanks to the app.
LIVING's information on community services will also be available on the interface and residents can be in constant contact with the common representative through the internal mail system, without the need for personal contact.
Access to the Spaceflow application is provided free of charge by LIVING to the residents of Kassák Residence for one year.
"We are very proud to be the first in Hungary to launch a public community management platform and all this during the pandemic. With Spaceflow, we are able to inform homeowners directly and create an opportunity to build a supportive housing community, "said Vincent Vallois, co-founder of Online Real Assets and Spaceflow.
"LIVING aims to improve the quality of life of its residents with people-centered services and intelligent solutions, which is why we provide them with more community services in all our developments. Our four ongoing projects – Park West 1-2, Metropolitan Garden and Kassák Passage – are all on schedule despite the changed circumstances. We planned the introduction of the community application already in the initial phase of our developments, which has been made even more well by the rise of contactless administration. LIVING aims to be at the forefront of innovative digital solutions, so we are the first to introduce this type of innovation, which also brings extra convenience to residents, "said János Martin, WING's Director of Residential Projects.
By the way, 99 percent of the apartments in Kassák Residence have already found a new owner, for whom the opportunity to use Spaceflow is already open. At Kassák Residence, residents can meet not only the recently announced community application, but also many other community solutions.
It was also recently announced that a car-sharing service for house residents has been launched in collaboration with Share Now! The community shed provides the necessary equipment for more or less technical and DIY work, the contracted cleaning service can be ordered in case of occasional and regular cleaning needs, and Hungary's first outdoor parcel point in a residential park was also implemented here. As a novelty, free Wi-Fi is available in the public areas of the Kassák Residence. (source: https://tekdeeps.com)

More details about Spaceflow in Romania: Online Real Assets