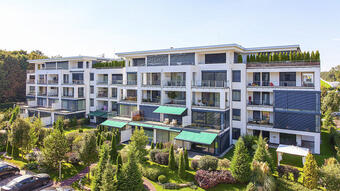 WELL Health-Safety is the newest building certification system introduced by the International WELL Building Institute (IWBI), helping landlords and tenants adapt their buildings to the post-Covid-19 reality. Colliers International Romania will coordinate the certification process of the entire mixed building portfolio held by Tiriac Imobiliare, a release shows.
The WELL Health-Safety Rating standard emerged following recommendations from the IWBI Task Force on Covid-19, a group of about 600 health experts, virologists, academics, government officials, construction specialists and real estate professionals. The WELL Health-Safety certification addresses all types of buildings in use, is evidence-based and focuses on adopting operational policies, implementing maintenance protocols, and developing contingency plans.
The Stejarii Residential Club 1, the Tiriac Center office building, but also the projects under construction – Tiriac Tower and Stejarii 2 – were registered for the WELL Health-Safety Rating certification.
"In our efforts on sustainable development, the main concern was caring for the safety and well-being of tenants, so the decision to certify the portfolio was easy. Thus, through this international certification, we validate the anti-Covid-19 measures implemented since the beginning of the pandemic. Regarding buildings in development, we follow the same strategy: efficient and safe buildings from the perspective of the health of our tenants. Thus, we rely on the collaboration and involvement of the Colliers Romania team to be with us in the WELL Health-Safety certification process," says Razvan Enache, CEO of Tiriac Imobiliare.
Currently, no building in Romania has obtained this type of certification, but globally there are over 7,500 buildings in over 20 countries, registered for WELL Health-Safety Rating certification. Among the first buildings to obtain this certification are Yankee Stadium, Empire State Building, RMZ Corporation or Carrier / EMSI.
"As organizations around the world respond to the Covid-19 crisis through updates on internal policies and protocols, the WELL Health-Safety Rating standard provides an effective tool to guide, validate, recognize and enhance the efforts building owners and tenants make for people's health and safety. In order to maintain the certification, the projects must go through an annual process of renewal, which helps to ensure the fulfilment of a high standard of long-term health and safety," explains Stefania Baldovinescu, Partner, Head of Real Estate Management Services & Land Agency within Colliers International.
Investments in office buildings in Romania have reached a high degree of maturity, and currently the main differentiators are related to quality. Real estate developers pay more attention to the environment by developing sustainable projects, efficient in terms of energy and water consumption, for which they obtain green certifications that attest to higher and higher levels. In addition, the WELL standard comes and draws attention from the impact of buildings on the built environment to the impact they have on the health and well-being of the people they occupy.
The WELL Building standard is the first system that recognizes the healthy interaction of a building's occupants with the space in which they live, focusing on air and drinking water quality, natural and artificial light quality, nutrition, physical activity, sleep patterns, people's productivity and performance. Based on the strategies applicable in the WELL Building standard, the IWBI Task Force created the new WELL Health – Safety Rating evaluation system, designed to provide support for prevention, preparedness, adaptability, and recovery in the context of Covid-19. (source: Colliers)