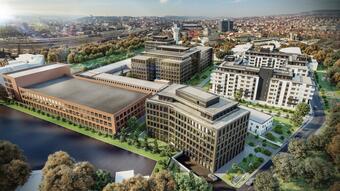 Designed on the site of the former furniture factory Libertatea, Liberty Technology Park reinvented its identity by converting the industrial heritage and creative energy into a contemporary technological hub. Currently home to Siemens, Capgemini, IBM, Majorel, the compound is predominantly occupied by internationally renowned tech and R&D centres.
"Liberty Technology Park is pioneering the conversion of former industrial area into a modern urban designed to address diverse needs of living, working and entertaining. In a few years people will discover in this place a new face of Cluj-Napoca, becoming one of the landmark destinations of the city. White Star Real Estate is one of the leading players on CEE real estate market, with proven track records in redevelopment of former industrial sites. Our vision and international experience combined with the knowledge and enthusiasm of the local professionals represent the main competitive advantage and essential condition for a glamorous project", says Emilian Balan, Managing Director of Liberty Technology Park and Country Partner of White Star Real Estate Romania.
Liberty Technology Park is located in the north of Cluj-Napoca, in a developing area of the city, less than ten minutes driving distance from the Old Town.
The office component will provide flexible office solutions, offering floor plates from 800 to almost 4,000 square meters, catering to the needs of small and medium companies but also of people-intensive organizations. The project will be built in accordance with the sustainability development criteria and will be BREEAM certified.
Real estate advisory firm Griffes has been appointed as the leasing agent for Liberty Technology Park, reconfirming its interest and exposure to regional cities.
"We are eager to capitalize on the knowledge we have gained after more than 4 years of working in regional cities, especially Cluj-Napoca, and to partner with White Star Real Estate in their endeavour to move the project forward. The new investor will bring a specific touch on the area and the proven success of the off-plan residential sales shows the area is gaining more and more traction. I am personally happy to promote a project that makes a great example of blending a rich past with state-of-the-art new architecture", stated Andreea Paun, Managing Partner of Griffes.