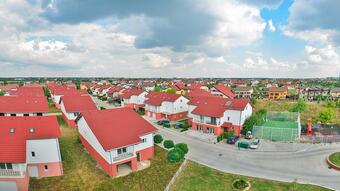 In the last quarter of 2020, despite the unfavorable economic situation and restrictions, Zacaria maintained a good pace of transactions for the project of 182 apartments in Băneasa, Valletta Residence, managing to reach its target, that of completing sales in 2020.
At the same time, sales in the American Village complex, in Pipera, remained constant, as demand for garden houses increased. In addition to the remaining available villas, the development of six low-rise apartment blocks will begin here in the second quarter of 2021.

Work on the new residential project developed by Zacaria in the historic center of Craiova will begin in the 3rd quarter. Valletta Towers will include 250 apartments with two underground levels for parking, plus a Boutique Mall, located inside a historic monument building with a unique and beautiful architecture. The plan is for the residents of the neighborhood to have access to this center, which will house various shops, through an underground passage.

Implications of the pandemic
The Zacaria team was always operational and ready to support its customers, and the company's activity was not disrupted, while also managing to ensure a remarkable growth despite the difficult times. "This year has been a rigorous test for many companies, a test that Zacaria, we can proudly say, has passed brilliantly, proving that it will continue to withstand any challenge", said Jonathan Diamantino, CEO of the company.
Zacaria is part of the international group Alf Mizzi & Sons, which was founded in Malta more than 100 years ago. The company started its activity in Sibiu, in 2005, and today it is one of the largest owners of industrial spaces in the country. (source: Zacaria)